The Judo for Peace South Africa (JFPSA) program continues to grow at a rapid pace, offering judo activities to more and more young people to help them integrate and give them the tools to fight against xenophobia. Child protection, gender equity and self-confidence have been among the issues that have been at the center of all activities for several years, under the leadership of IJF Academy alumnus Roberto Orlando, who recently joined the IJF Judo for Peace Commission.
Judo for Peace South Africa is a program funded by the International Judo Federation in collaboration with UNHCR. In South Africa, the main partners are Nike, Three2Six, Future Families, Grassroots Soccer and Judo South Africa.
Robert Orlando explains further: "Today, we are present in Johannesburg with 7 clubs: Berea, Rosettenville, Kempton Park, Alexandra, Vosloorus, Brixton and Soweto. There are also 5 schools and other satellite clubs in Durban and Cape Town.
Our vision is to fulfill Jigoro Kano Shihan's dream of providing a better future for young people through judo education, with mutual help and mutual benefit, towards building a better society. Judo for Peace South Africa is a platform for communities to meet, collaborate and contribute to social cohesion, youth and women empowerment and child protection within local communities and communities. refugees.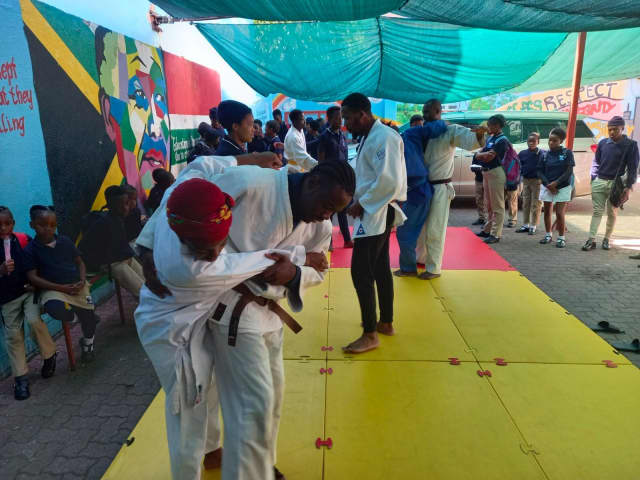 Judo for Peace South Africa is active in many places. In recent months, for example, the Klipspruit Sports Center in Soweto has welcomed judo as one of many activities offered to young people. So, with the support of Nike and the Made to Play program, judo is now taught in Soweto, the beating heart of Johannesburg.
To give some background, Soweto is perhaps the best known township in the country and certainly the oldest as its roots date back to the 19th century. Part of the Johannesburg Metropolitan Municipality in Gauteng, South Africa, the district borders the city's mining belt to the south. Its name is an English syllabic abbreviation meaning South Western Townships. It was the center of many riots and protests over the past decades and still remains a place with complex social issues.
It is in this context that on October 28, the children joyfully celebrated World Judo Day, incorporating the theme of inclusion. The dojo welcomes children and young people of different nationalities, who learn to work together. This represents a fundamental step for social cohesion in the region.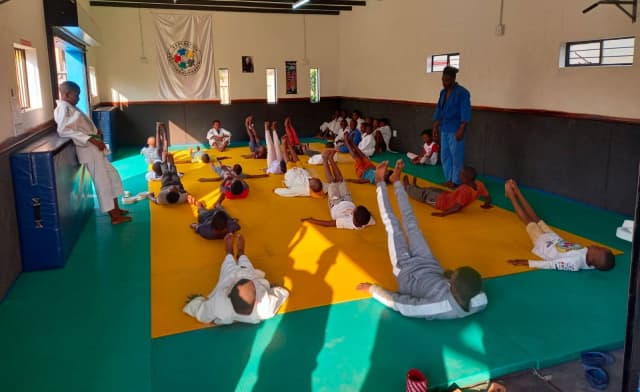 In Alexandra Township, one of JFPSA's other sites, the program aims to change the perception of refugees and migrants in the eyes of local communities, with a safe space being key to child protection. Every Thursday is a full day of judo training, with classes starting in the morning and running throughout the day. Food is also provided.
More recently, self-defense has also been promoted, to foster social inclusion. At the Primary Observatory and at the Collège Sainte-Famille, judo is taught to children from different backgrounds. There, the Three2Six program and Judo for Peace promote social inclusion by encouraging refugees and local South African children to train together and
learn from each other.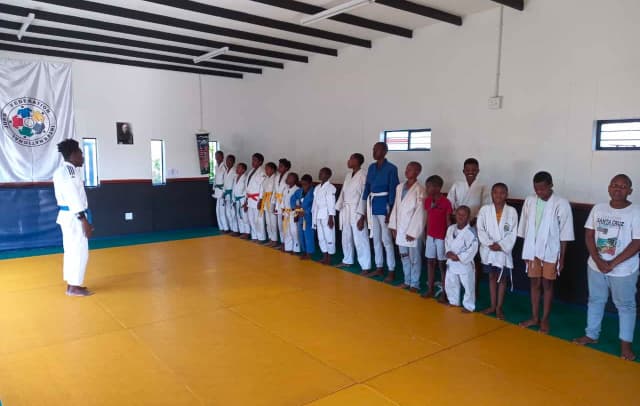 In order to give more power and strength to the ongoing activities and as already reported on the IJF website, Roberto Orlando and Nicolas Messner, Head of the Judo Peace Commission, participated in the Nike Partners Summit EMEA in the Netherlands in early November (https://www.ijf.org/news/show/nike-emea-partner-summit-partnership-and-success). On this special occasion, Claire Richter, Social and Community Impact at Nike in South Africa, had the opportunity to meet the IJF Judo for Children/Judo in Schools Commissions, enjoying an in-depth presentation of the work done across worldwide to include judo in the school curriculum. . There is no doubt that this will have a positive impact on the aforementioned activities.
All these elements show how much judo can help to rebuild a society. It's a team effort and it takes time and patience but it works. Judo for Peace South Africa regularly sends us news from the tatami, news that always warms our hearts.