My youngest child drove to work this morning. Her after-school and weekend job is across town at the martial arts school where we've both been training since she was five. We drove through Sydney, from the trees and water of the land just north of the Parramatta River, the river that crosses Sydney opening into the harbour, to the denser, dirtier and livelier for twelve years.
We have done this trip over 3000 times. She knows every corner, every pothole, every traffic light; she knows where lanes merge and split, and which right turns to avoid. We drove early on weekends before the city wakes up, at the height of rush hour, and at night, when the moon is solid and low on the horizon and the illuminated city appears above climbs and turns.
It's a journey that takes 20 minutes with a clear course and up to 40 minutes on weekend afternoons with its Saturday drivers and less traffic lanes. We've been through every step of WestConnex's massive development with every other driver just as puzzled as we are.
We have been through tantrums and meltdowns, a crumbling world of grade school loyalties, (un)fair rewards, pride and estrangements. I stopped to climb into the back and hold a little girl beset by a sudden dread of her suitability.
I saw her migrate from the back seat to the front, transitioning into her adult body. I catch her in profile, her hair up on her head, her long legs folded around her bag. Quickly changing into uniform in the car, she learned that she had to give up that freedom. I saw her become aware that her body is no longer just her tool to be used as she pleases, but that it is an object – seen.
I turned on the radio to drown out the dramatic sobs over the parental cancellation of a second ear piercing. She dissed my music, spat scorn, locked on her phone, scrolling, tapping her thumbs. Yet she also said things to me. Labor dramas, the principal's latest contrived outrage. Small things but gold for a parent of teenagers.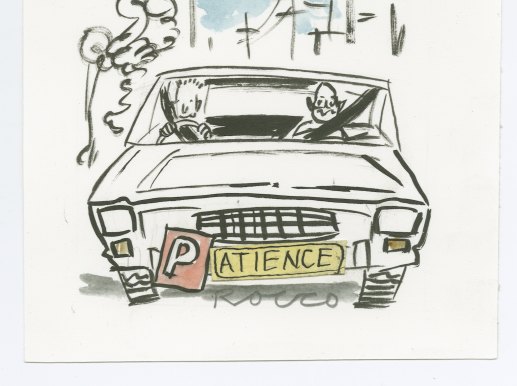 The road is real for her. Spatial awareness and speed are real. We had a few binges, bad weather and inattentiveness are the cause, but once we dug into someone else's back, my frustration was to blame. She watches, tenses, flinches when other drivers enter our space.
I hate and welcome this. When she migrated to the driver's seat, she brought it with her. The 120 hours and more of learning necessary gave new meaning to our journey, harnessed to its ambitions. Once confident enough to drive and talk, she shared more. She was going nowhere, and as the only diversion allowed, my shrewdly flippant questions sometimes bore fruit.